The master is at Conservatoire national des arts et métiers (Cnam), Paris downtown, France, in the heart of the Ville Lumière, Marais district, in a vibrant multi-cultural international and stimulating environment.
The master training program covers:
basics about network architectures and operating systems;
advanced technologies related to the design IoT computing systems, protocols and applications;
novel network architectures emerging with network virtualization (NFV), edge computing (MEC) and softwarization (SDN, SD-x).
network security and cybersecurity of the Internet;
modeling and performance evaluation of networks and computing systems, including 5G and beyond 5G systems.
integration of artificial intelligence and novel decision-making frameworks for the operations and automation of communication networks and IoT Systems.
The master teachers include world-class academics and industry experts active in the master technical areas on international, European and national collaborative and industrial research projects (H2020, ANR), standardization and open-source bodies (ONF, IETF, ETSI).
The master is in partnership with the computer science master of Sorbonne Université, Latin quarter, to share modules taught in English. One day per week will be spent for courses in the Sorbonne Université Jussieu campus, 20 minutes from Cnam campus.
Double degrees agreements are available with partners universities in Italy and Vietnam.
On the right-side widget: recent publications from the master teachers.
Objectives
The master is meant for students willing to become expert of digital infrastructure technologies, going from network and cloud infrastructure solutions to edge computing and IoT systems and applications.
Students attending the Computer Networks and IoT Systems master will learn and experiment current and novel technologies underpinning the Internet infrastructure, related to Network Virtualization, Internet-of-Things (IoT) protocols and architectures, IoT device design, Artificial Intelligence and Machine Learning integration in network and embedded systems, Software-Defined-Networking, Cloud Networking, 5G and beyond-5G architectures, Cybersecurity systems – a set of novel technologies driving the digital society evolution.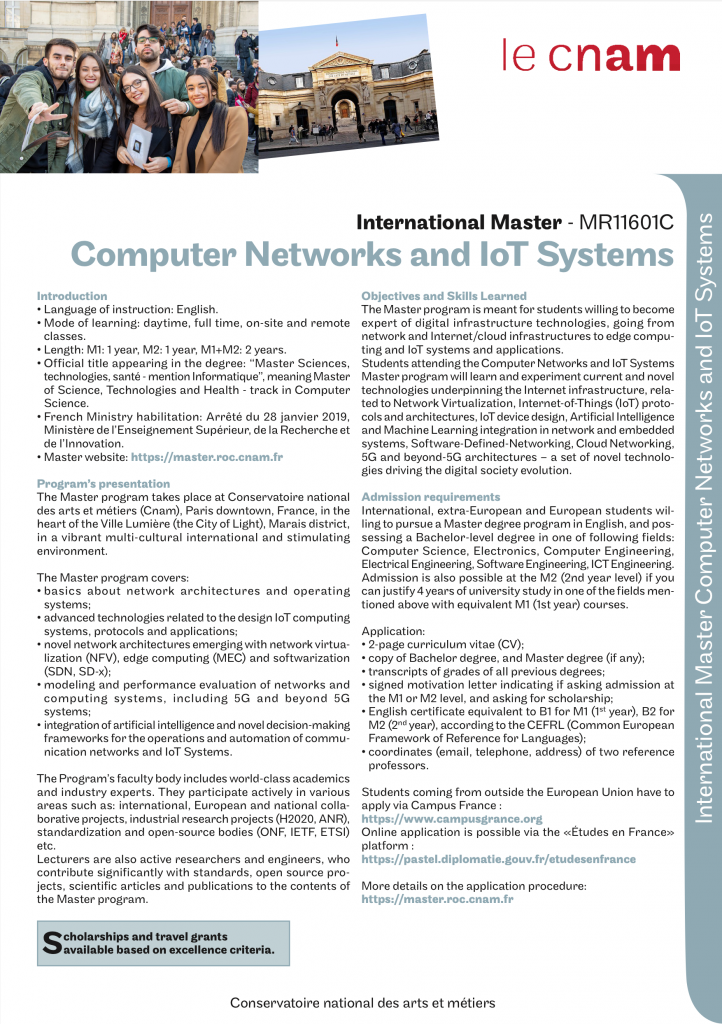 Alternative French-taught master
Un master équivalent enseigné en français et en cours du soir (modalité hors-temps-de-travail, HTT) et aussi accessible à distance est décrit dans cette page web: https://master-htt.roc.cnam.fr.
Un master équivalent en formation en alternance est déployé à Perpignan ; il y est offert en français en cours du jour, avec statut étudiant-alternant, par le Cnam Occitanie en collaboration avec l'Institut Méditerranéen d'Etudes et Recherche en Informatique et Robotique (IMERIR). Il s'agit d'une variante du master avec une spécialisation en robotique de prototypage et une expérience d'apprentissage reconnue dans les crédits.
Pour plus d'information : site web du master Réseau, Objets Connectés et Robotique de Prototypage.
Recent activity